Temporary Exhibition

"Baschet Exhibition -F.Baschet and Taro Okamoto"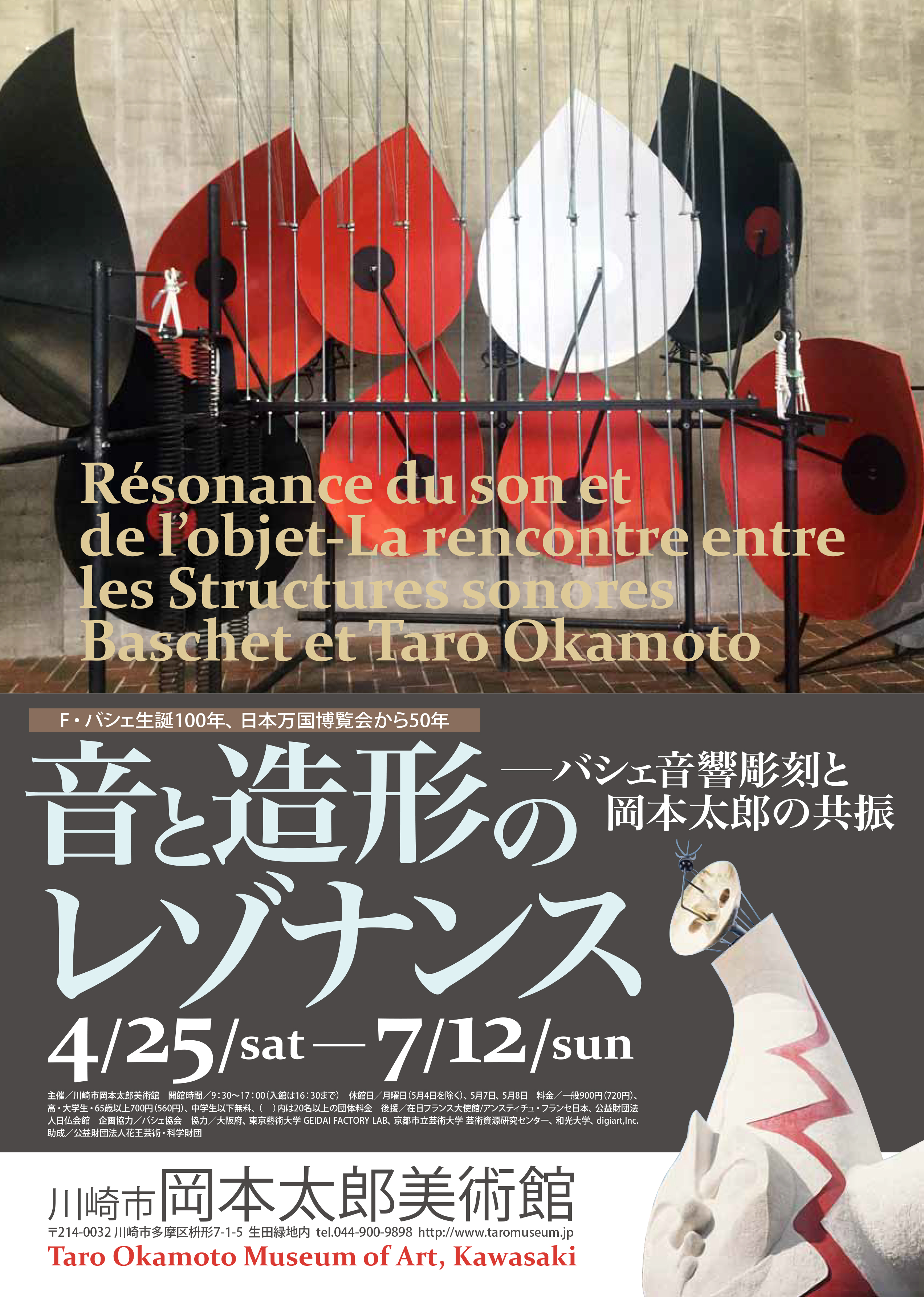 Period June 2 to July 12 , 2020
Period :June 2 to July 12 , 2020
Admission : Adult 900yen(720yen), Students and Seniors [65 and over, with ID] 700yen(560yen),
*Children [15 and under] Free
*( ) parenthesis indicate group discount rates
Closed : Mondays(If Monday is a holiday, then next weekday),the day after national holidays
Believing in the idea that art should be shared with all people, Taro Okamoto created many pieces of public art including the "Tower of the Sun". Just like Taro Okamoto, the two brothers, François Baschet and Bernard Baschet, created a new style of art called "Sound Sculptures" that are both an object as well as a musical instrument that anyone can play with ease. In fact, Taro Okamoto and the Baschet brothers both spent time in France. The general climate and culture of France is what cultivated their artistic values. The sound and sculptural beauty of the Baschet brother's "Sound Sculptures" have received recognition world-wide, and are featured in art museums all over the world including the MoMA, Musée des Arts Décoratifs, etc. Toru Takemitsu, a musical composer who also was the director of the Steel Pavilion Building for the 1970 World Expo in Osaka, invited François Baschet to the building and displayed his work. Taro Okamoto's "Tower of the Sun" and the Baschet brother's "Sound Sculpture" are both works that elicit similar feelings towards art. They coincidentally were featured next to each other during the Osaka Expo, and have had a very positive reception from many people. Since the Expo, the "Sound Sculptures" has been preserved at the Steel Pavilion Building. We have restored the original sound and sculptural beauty of the sculptures primarily from Osaka City (at the time Commemorative organization for the Japan World Exposition '70), Tokyo University of the Arts, and Kyoto City University of Arts.

This exhibition attempts to use Taro Okamoto's artistic space to present under the same roof the Baschet brother's five "Sound Sculptures" that still exist in present day Japan. We will be holding events where visitors can participate in workshops, watch live performances of musicians using the sound sculptures, etc. Each of the models – the Takagi, Kawakami, Katsura, Watanabe, Katsuhara phones – all have different characteristic. Depending on who plays which phone, an infinite variety of sounds can be produced. So by presenting these pieces of art with the works of Taro Okamoto, we can create an exhibition that has an ambience conducive to great art that will undoubtedly fascinate all of our museum visitors.


---
Permanent Exhibition

"Okamoto Taro "Seikazoku" "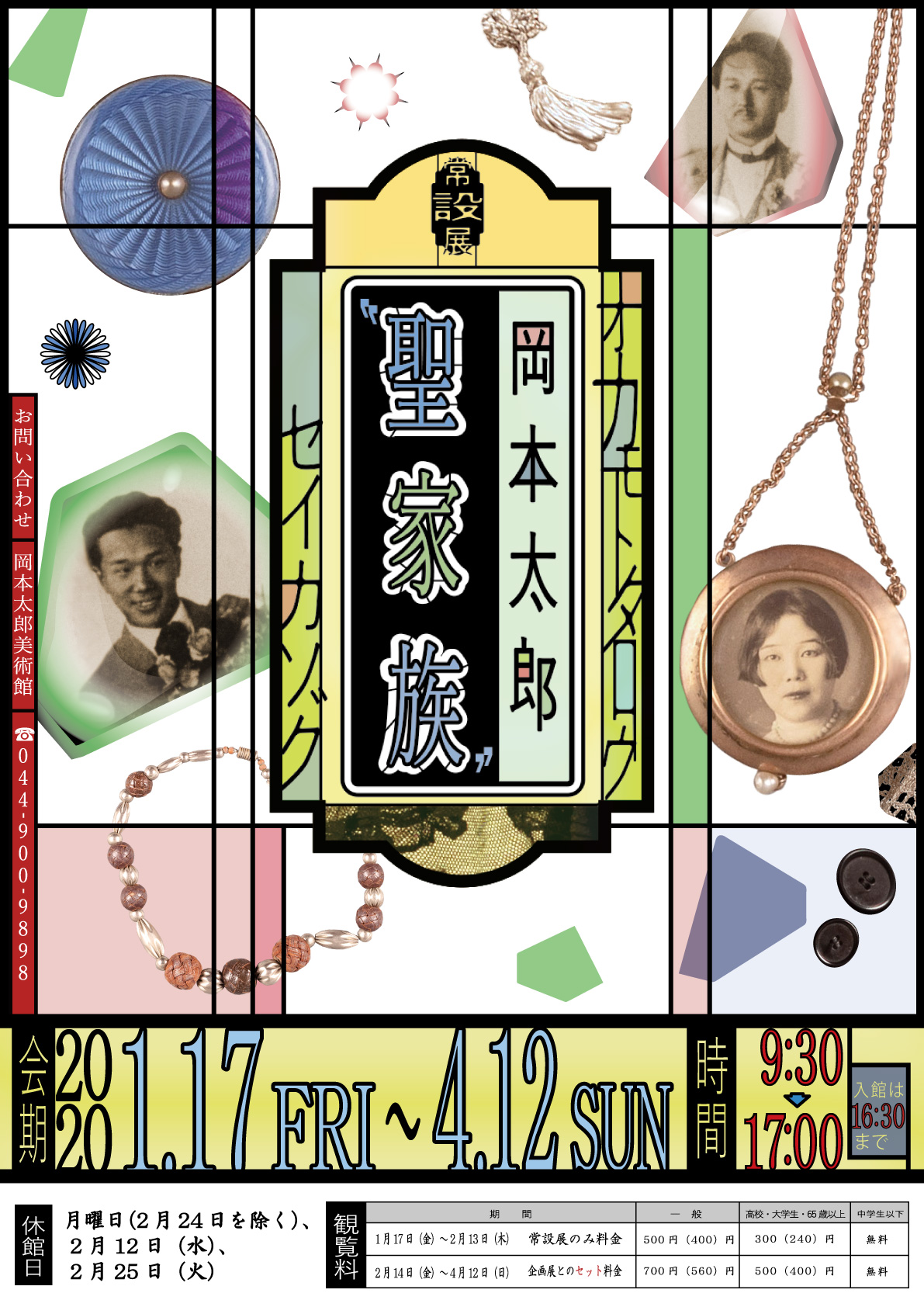 Period January 17 to April 12 , 2020
Period :January 17 to April 12 , 2020
Admission :January 17 – February 13
Adult 500yen(400yen), Students and Seniors [65 and over, with ID] 300yen(240yen),
February 14 – April 12
Adult 700yen(560yen), Students and Seniors [65 and over, with ID] 500yen(400yen),
*Children [15 and under] Free
*( ) parenthesis indicate group discount rates
Closed : Mondays(If Monday is a holiday, then next weekday),the day after national holidays